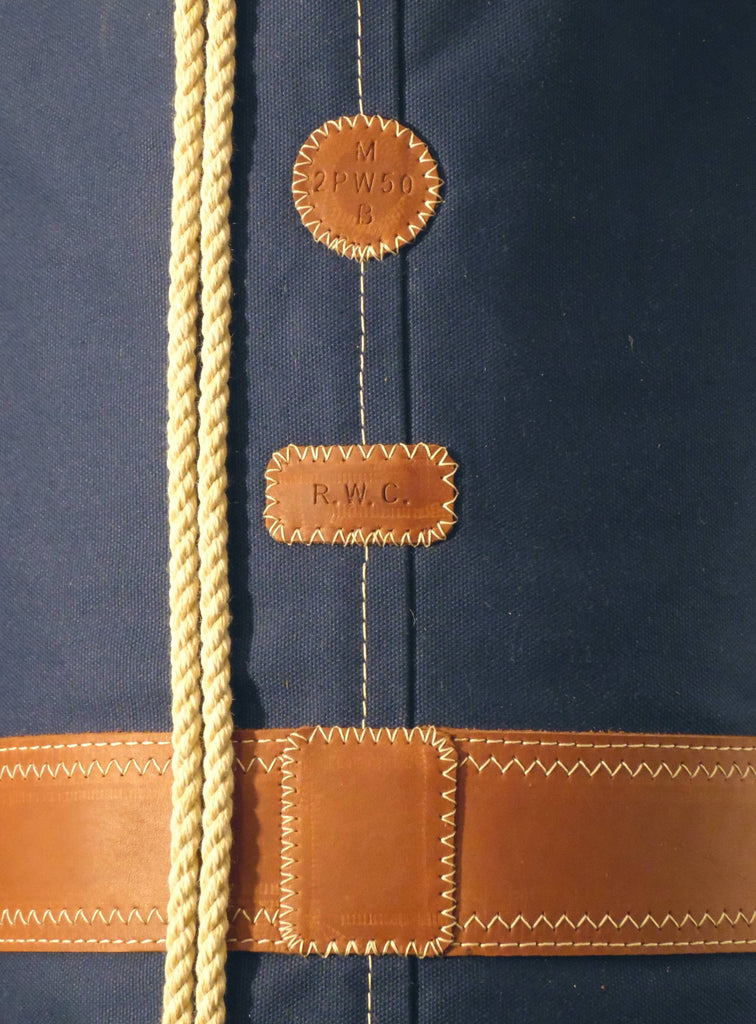 embossed leather initials, name, boat name, etc.
Custom Monogrammed Badge
Description

Reviews

Ordering Info
Personalize Your Seabag!

Have us add your initials, name, or the name of your ship to any seabag or ditty bag! Truly enhances the personality of your bag while creating an extra layer of security.
The matching leather badge is custom created and embossed by hand, then stitched down to your bag just below the Serial Number. We can emboss a maximum of 2 rows of text, with a recommended maximum of 14 characters per row (including spaces).
Use the form above (then "add to cart") to specify any combination of letters and numbers, plus parenthesis, periods and hyphens. Some examples include:
Your initials... such as M.T.H. or M.H.
Your name... such as WILLOUGHBY or C. LINDBURGH
Your boat's name... such as PROVIDENCE or SEA URCHIN
Your last name and ship... such as  TOURNEY   U.S.S. LIBERTY (2-lines)
If ordering more than one bag, please fill out and submit a separate order for each badge.  If ordering multiple bags with different monograms please contact us to specify which bag(s) get which monograms.
In order to prevent delays, please make sure to provide us with accurate contact information when you place your order... especially your email address and phone number in case there are any questions.

Quality & Satisfaction Guaranteed.

Quality, Service & Satisfaction Guaranteed.
Order Handling: Timely shipment is part of our commitment to you. Online purchases receive immediate confirmation by e-Mail. Seabags and rigging products are normally shipped within 3 business days or less (Mon-Fri, except holidays). Single orders for manufactured items, such as rigging knives and tools, are usually shipped out the next day. Online tracking is provided the same day your order is shipped.
For large quantities or custom project inquiries, or if you need something faster, please e-Mail or call us at 1-800-758-6979.
$99+ FREE USA Shipping & Tracking: Orders over $99, including all bags, are offered with free standard shipping and tracking within the USA. Other options, such as expedited shipping may be available at the checkout page.
Worldwide Shipping: International shipping rates, including service to Canada, are location-based and calculated at the checkout page. Other options, such as expedited shipping, may be available at the checkout page. Please note that any customs fees, duties, etc. are the responsibility of the buyer.
25-Year Seabag Warranty: All SHIPCANVAS seabags and ditty bags include a written 25-Year Warranty which guarantees the quality of our workmanship, as well as the fitness of all hardware and materials used in the bag's construction. Any bag found to be defective within the terms of our Warranty will be repaired or replaced (at our discretion) at no cost to the original Purchaser, except shipping.
+30-Day Returns: M&B SHIPCANVAS CO will accept any item as a return within 30 days of the confirmed delivery date that the item was received. To be eligible for a full refund, the item must be unused and in the same condition that it was received, with tags and packaging intact. We do not charge restock fees on new/unused items.
Secure Payments: We accept Visa, Mastercard, American Express, Discover, and PayPal, as well as Apple Pay and Google (GPay). All payments are collected in USD. Please note that SHIPCANVAS.COM is a secure (SSL) website with 256-bit SSL encryption protocols on our hosted payment gateways. All transactions are processed behind a secure firewall; M&B SHIPCANVAS CO. does not store your credit card information.
Other Questions & Special Requests: If you have a question or special request that has not been addressed here, please eMail or call us at 1-800-758-6979.
M&B SHIPCANVAS CO.
101425 Overseas Hwy #264
Key Largo, FL 33037 USA
+1 (305) 396-8535
toll free +1 (800) 758-6979
---
Share this Product